2017 Toyota Sienna Walk Around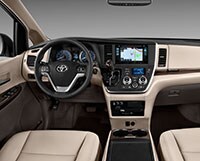 The Toyota Sienna looks like your typical minivan and does not try to masquerade as something else. Little has changed visually since the 2015 model year. A finned grille is installed on LX, XLE, and Limited trim levels. Limited and SE versions display LED headlights.
The Sienna SE looks the sportiest of Toyota's minivans, especially with an optional appearance package. Rocker panels and larger-diameter wheels stand out a bit, as do the SE's clear taillight lenses; but the overall shape differs little from other trim levels.
Interior
Inside, Sienna offers a smart interior appearance and convenient layout. Siennas are among the biggest and most spacious of minivans, promising exceptional comfort to all riders. Adults should have no difficulty entering or exiting the rear compartment.
A sweeping, contoured dashboard separates front occupants, placing essential controls on the driver's side. Instruments are large and easy-to-read. Audio and climate controls can be reached easily by the front passenger.
A 6.1-inch touchscreen is standard. Lower trim levels also get a 3.5-inch black-and-white LCD information screen, while upper models upgrade to a 4.2-inch color display.
Front occupants enjoy comfortable, supportive seating. Most models have a second-row bench, for eight-passenger seating. The bench slides to expand either occupant or cargo space. Removing one section provides access to the foldaway third row, which can actually carry grownups and isn't so difficult to reach.
Captain's chairs are standard with all-wheel drive, though they don't fold totally flat. In the front-wheel-drive Limited, reclining lounge-type seats include footrests and leg-cushion extenders.
Small-item storage is bountiful, with a deep console and dual gloveboxes. A handy storage platform below the center dash between the front seats provides a convenient place for a purse or your take-out order.
Cargo space totals 117.8 cubic feet with the second-row seats folded and pushed forward and the third-row seats folded. That's a lot of cargo space. Behind the third-row seats is 39.1 cubic feet of cargo space, and the deep well in the floor there easily holds and confines a massive load of groceries, superior to SUVs.
We found the power doors could be reluctant to open at times. A passenger we picked up curbside at a busy airport struggled to get the side door open, trying to operate it manually, which is what so often happens when passengers are trying to get in under pressure. And the rear hatch required holding down the button on the remote several beats longer than expected.