2016 Toyota Land Cruiser Walk Around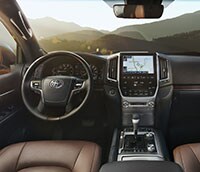 Despite its size, no one is going to look twice at the Land Cruiser. It used to have some chunky distinction, but its styling today is lost in the crowd. The big chrome grille is boring. The LED headlamps aren't designed in any creative fashion. It doesn't have an iconic style or a true-luxury presence like a Range Rover. It's just big and square with chrome.
Interior
The Land Cruiser's cabin is nearly as luxurious as that in the Lexus LX 570, but the materials aren't as rich as those in the Range Rover. Given the price, the Toyota materials not impressive. The Toyota Highlander's materials are nearly as nice.
It doesn't look or feel like a truck or offroad-oriented vehicle inside. The instruments are heavy on technology, with a big nav screen on top. It's very quiet, with negligible wind and road noise, and the front seats are extremely comfortable. You sit way up high, so forward visibility is outstanding.
The second-row seat slides several inches, for good legroom to go with good headroom. But the third row is unimaginative. Because of the big rear axle for off road, there's no room for the seat to fold into the floor when it's not used; each side swings against the bulkhead, reducing cargo space.