2015 Toyota Tundra Driving Impressions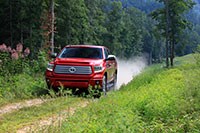 The 5.7-liter V8 produces 381 horsepower and 401 pound-feet of torque. The Ram Hemi tops that with 395 hp and 407 lb-ft, while the Chevy Silverado 6.0 liter comes in at 360 and 380, and the Nissan Titan works more like a truck engine with 317 hp and 385 lb-ft, at the lowest revs of any half-ton V8. Ford has two big engines, a 6.2-liter V8 with 411 hp, 434 lb-ft, and a twin-turbo 3.5-liter V6 EcoBoost that brings 365 hp and 420 lb-ft of torque at just 2500 rpm.
The TRD Pro uses the 5.7-liter, with a deep-throated TRD dual cat-back exhaust system. The truck was developed by Toyota engineers in the high desert of California, with the focus on suspension. They like the result, using thick (2.5) Bilstein high-performance offroad monotube shocks with remote reservoirs front and rear, with large 60mm pistons (46mm standard), larger shafts (18mm vs 12mm), and Eibach front coil springs with a 2.0 lift and decreased spring rate to improve ride quality over harsh terrain. Wheel travel is increased 2.0 in front and 1.25 rear. The standard Tundra bump stops, front sway bar, and end links are retained.
There's 2 inches more ground clearance at the front and under the skid plate, but clearance under the rear differential is the same as any Tundra. The approach angle increases by 5 degrees, but the turning circle decreases to 23.6 feet.
A number of tires were tested before the Michelin offroad hoops were chosen. They're P275/65/R18 Michelin LTX AT2 tires that are 32 inches tall, and look serious on the black alloy wheels. Their tread and sidewall patterns are designed for the Tundra TRD Off-Road Package, with strong center ribs to limit road noise, and aggressive siping and side lugs help maximize offroad traction in mud and sand.
We got some seat time in a Tundra TRD Pro Double Cab, although not hard running in the high desert like the lucky engineers. It's not uncomfortable or difficult to drive slowly on pavement, and it will climb slopes, navigate ravines and stomp big rocks. I was surprised by how much I enjoyed driving the TRD Pro, said one small female we know, about her seat time on downtown Houston streets.
On the road, power delivery from any Tundra engine is linear, and strong at low engine speed. This is especially so in the 5.7-liter, where 90 percent of its 401 pounds of torque is there from 2400 rpm to 5500 rpm. It's a solid powerplant that's very responsive when quick acceleration is needed, while being smooth and powerful when cruising.
The 4.6-liter V8 delivers 310 horsepower and 327 pound-feet of torque, using the 6-speed automatic transmission. It's smooth enough to meet the Lexus standard, where the same engine is used in Lexus luxury SUVs. Fuel economy is an EPA-estimated 16 mpg Combined city and highway.
For a powertrain comparison, Chrysler offers a 5.7-liter V8 in the Ram, rated at 395 horsepower; using an 8-speed automatic, it gets about the same mileage as the Tundra. Ford's 5.0-liter delivers 360 hp with similar mileage. GM's 6.0-liter makes 360 hp with 380 lb-ft and uses a 6-speed automatic.
Maximum towing capacity of 10,400 pounds applies to an unloaded Tundra Regular Cab 2WD 5.7 V8; the top-line CrewMax 4WD rates 9,000 pounds, while maximum on the F-150 is 11,300 pounds. The top Ram is similar and the Titan a bit lower.
For towing trailers in the 4,000- to 7,000-pound range the Tundra does a good job. Overkill with tow rigs is nice on long nights, in inclement weather, during strong winds or dealing with hilly country. For routine towing of trailers anywhere near 10,000 pounds you'd be better served by a heavy-duty pickup from Ford, GM, or Ram, maybe with their diesel engines.
Unlike some other half-ton pickups, the Tundra does not offer an integrated trailer brake controller. We'd prefer that it did, but a host of aftermarket controllers do the job well.
The 6-speed automatic transmission works well. Gear changes are smooth, though more apparent when trailering. Automatic downshifts during braking on downhill grades are well managed, properly timed and helpful. The Tundra's transmissions are unobtrusive, which is important. The Tow/Haul mode helps the transmission live longer by shifting less.
Ride and handling in the Tundra are both up to snuff. Steering response is sure and certain, though perhaps not as advanced as an F-150 with any engine except the 6.2-liter. Somehow, Toyota's suspension engineers have delivered a setup that leaves no doubt the driver is operating a truck, but isn't reminded of it at every bump and dip. Over severely uneven pavement, the solid rear axle makes its presence known with a slightly skippy feeling, but the Tundra's unladen rear end feels less skittish than some other max-rated pickups, and there is rarely any disruption that even instantaneously moves it far off the driver's intended path. As with most pickups, the ride gets bouncy on bumpy freeways with an empty bed; any pickup may have the wrong wheelbase to avoid tiring bobbing on expansion joints so do your test-drive on a variety of road surfaces.
Braking is solid, with firm pedal feel. The Tundra's standard four-wheel discs are among the biggest in the segment, as is the rear differential. It's a good thing, because the TRD Pro Double Cab weighs just 100 pounds shy of three tons, and the 4×4 Double Cab just 40 pounds less than that. The ABS includes electronic balancing of brake force and electronic stability control is standard on every Tundra.
The TRD Off-Road Package delivers excellent handling on pavement, and it's especially noticeable when Tundras so equipped are driven quickly on winding, two-lane roads. New Michelin branded tires are a good compromise between off-highway traction and on-highway grip and quiet. The TRD package offers much of the off-road capability of the full-blown TRD Pro.
Tundra 4WD does not offer an all-wheel drive setting for on-pavement use in inclement weather, but that makes no difference to braking in the snow. For more severe four-wheel-drive use, the Tundra offers decent articulation and good low-range gearing. When enabled, the traction control can be intrusive. Unlike many pickups, the Tundra 4WD has a switch that backs off the thresholds for deploying the side-curtain airbags. This can be helpful on side-angle trails and ditches that might otherwise trigger an unwanted side curtain deployment.