2015 Toyota Camry Walk Around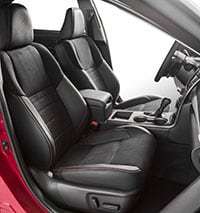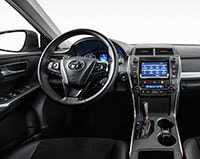 Freed from their decades of short leash constraints, Toyota's stylists have given the Camry something it's lacked in previous generations: eye-catching character. There are subtle creases in the hood, two new grilles (visually defining the L and S versions), strong character molding in the side panels, and LED daytime running lights that lend splashes of bright to the lower corners of the front end.
As noted, almost all the exterior panels are new; only the roof carries over from the 2014 model. New wheel styles, including 18-inch alloys on the sporty XSE. New colors.
Although the wheelbase and sub-structure are unchanged, the new body is a little longer, and the slightly wider track gives the Camry a more athletic look, particularly in the XS and XSE editions, with their snarky mesh grilles.
It's also worth noting that the Toyota has added the sporty XS trim level to the Camry Hybrid, which is also offered in LE and XLE versions.
Interior
Pretty much everything inside the 2015 Camry is new. There's hardly a trace of hard plastic anywhere, most surfaces are covered with soft-touch material, upholstery has been upgraded across the board, and the supple leather that adorns the seats in the up-level XSE and XLE trims is set off by handsome stitching with French seams. The Camry Hybrid SE comes with fabric upholstery with an interesting Louis Vuitton-like checkerboard pattern that is very attractive.
The engineering that went into the new body shell included additional spot welds around the door openings and the cowl, resulting in improved chassis rigidity, according to Toyota, although the development team refrains from quantifying the increase. However, while the stiffening is impossible to verify via the driver's seat-of-pants impressions, it does contribute to improved operating serenity. The revision also included more sound-insulation, and it adds up to a Camry that's as quiet as many high-end luxury sedans.
The redesigned instrument panel includes a new thin film transistor (TFT) information display nestled between the tachometer and speedometer, 3.5 inches and black and white in the basic LE, 4.2 inches and full color in higher trim levels. LE dashboards have a 6.1-inch center dash touch screen display, while uplevel models get a 7.0-inch screen. Toyota's Entune multimedia system brings the Camry up to date in terms of infotainment with voice recognition, Bluetooth streaming, and a laundry list of apps to satisfy the growing hunger for those all-important connectivity features. There's also a list of audio options culminating in a 586-watt JBL sound system, and a new center console system that allows wireless recharging of mobile devices such as smartphones.