Merced Toyota is once again winner of the 2019 Toyota President's Award. This is our 9th trophy in the last 10 years! 
Thanks to our customers, we've received the 2019 Toyota President's Award and this is our 6th in seven years, and 9th overall. It's the highest honor for a Toyota dealership and is also a symbol of our continuing dedication to satisfying our customers. From every department and every person at our dealership, we thank you!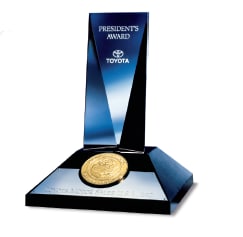 Each year, Toyota Motor Sales recognizes its stellar dealerships who have demonstrated a dedicated commitment to maintaining Toyota's high standards for customer service and satisfaction. Not only did our team at Merced Toyota meet the challenges we all faced during the past year, but our dealership thrived thanks to our commitment to excellence. Our team was recognized for their exceptional performance in all departments and for meeting the high standards of the President's Award.
One of Toyota's primary goals is to emphasize the entire ownership experience. We want to help ensure that our customers are satisfied not only at the time of purchase, but as long as they own their vehicle. Offering top quality cars and trucks is, of course, the first step, but only the beginning. Merced Toyota strives to match the quality of our products with the finest service in the industry.
In order to qualify as a President's Award winner, dealerships must excel in all facets of their operations, including 
Customer Sales Satisfaction 
and 
Customer Service Satisfaction
. The award is proof that winning dealerships continue to go above and beyond with their customers, and represent the "best of the best."
Merced Toyota is committed to providing customer-focused services at our Merced, California location. At Merced Toyota, the relationship with our customers does not end at the time of purchase. Instead, we hope it is the beginning of a solid and long-lasting relationship built on 
trust and integrity
.